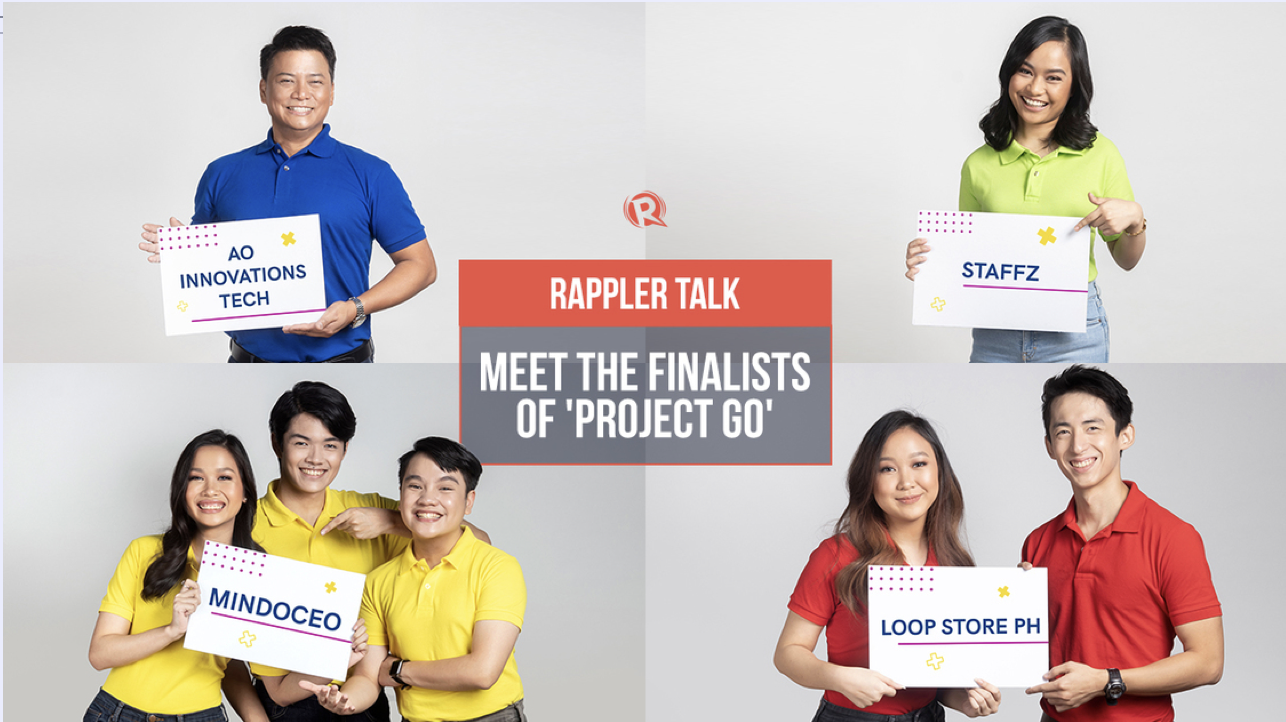 Despite (and, perhaps, because of) the restrictions and new problems caused by the coronavirus pandemic, inventors and innovators have gone into hyperdrive, thinking of ways to solve old and new problems.
It's this energy that reality show Project GO hopes to capture in sending out a call to entrepreneurs from all over the Philippines. From hundreds of entries, 4 teams will be competing for the top prize – P1 million – to help make their ideas real.
In this episode, Rappler's life & style and entertainment editor Bea Cupin, who is also a mentor in the show, catches up with the 4 teams before the airing of their final pitch.
Part 1 of this Rappler Talk features AO Innovations Tech and Loop Store PH.
AO Innovations Tech, represented by Arnel Andal in the show, creates fan-assisted full face PPE masks that are already being used by Filipino healthcare workers to protect themselves from COVID-19. The masks offer two-way filter protection and have fan-assisted airflow management. The mask, designed by Arnel and his partner, is a result of both ingenuity and necessity – to provide at-risk health workers protection at a much cheaper price point.
Loop Store PH's pitch is a food packaging made from banana leaves. Should it go into the full swing of production, Dominique Trinidad and Pocholo Espina's product would give food businesses a sturdy, waterproof, and biodegradable alternative to single-use plastics for take-away and delivery.
Part 2 of this Rappler Talk features Mindoceo and Staffz.
Mindoceo, a virtual tutoring platform, is the brainchild of undergraduate students Marcel Ibay, Calvin Lorenzo Borja, and Noelle Sofia Mison. The platform aims to connect students to professional tutors and educators – some of them students themselves – to make one-on-one help accessible whenever and wherever it's needed.
Staffz, represented by Pearl Janine de Guzman, is a freelancing portal that trains individuals from underprivileged communities on graphic design, SEO, and other creative services, then links them to entrepreneurs who might need their services. Opportunity – to learn and go beyond one's existing economic situation – is at the heart of Pearl's pitch.
Catch the interviews on November 27 and 28 by bookmarking this page or following Rappler on social media.
A new episode of Project GO airs every Thursday on AXN Asia, at 8:25 pm. New episodes are also simulcast on the YouTube channels of AXN Asia and Go Daddy Asia. – Rappler.com
Rappler is a media partner of Project GO.
Originally published on Rappler.